Top 10 Recipes for October: All things Pumpkin, Squash and Spice
Looking for the best fall recipes in one place? No need to scroll any further: Here are my Top 10 Autumn Recipes.
Autumn means warm fires, shimmering leaves dotted with gold and glorious reds, cozy sweaters, college football, pumpkin patches, apple picking, warm mugs of cider and gathering with friends & families. But most of all, Autumn means time for Fall Baking Season.
Here is a list of my favorite fall recipes gathered to make your fall menu planning a breeze.
Just scroll on down for links to my most delicious, tummy warming recipes.
I've knitted together everything from a Pumpkin Spice Latte under 100 calories to a Sparkling Apple Cider Mimosa and Make Ahead Pumpkin Strata– perfect for Fall brunches. Pear & Apple Sangria served with Butternut Squash Lasagna is ideal for football watching. For your sweet tooth stretch your baking chops with my Pumpkin Bread with Streusel Topping or scrumptious Oatmeal Scotchie cookies. Try my protein packed Wheat Berry, Kale & Butternut Squash salad. Autumn wouldn't be complete without a hearty soup. Vegan Roasted Carrot Soup with Coconut Milk is SO good, no one will ever know it's healthy. Try this recipe for Simple Mushroom, Beef & Barley Soup for the ultimate cozy supper. Scroll all the way down for number 10.
Top 10 Fall Recipes:
1. Lower Calorie Pumpkin Spice Latte
This creamy, warm coffee treat is made by heating oat milk, maple syrup, pumpkin pie spice and frothing until whipped together in a velvety mug of happiness. Dollop over hot coffee and top with cinnamon or more spice. You may skip your neighborhood barista after making this spicy cup of autumnal bliss at home. Click here for the recipe.
Want another coffee drink with a little kick? Try this Pumpkin Rum Spiced Latte.
2. Apple Cider Sangria
Crisp white wine, vodka, and tart apple cider is flavored with pears, apples, pomegranates and blood oranges. Let sit overnight and infuse with cinnamon sticks. Refreshing, sweet and oh so Fall. Click here for the best sangria recipe.
Bonus recipe: Sparkling Apple Cider Mimosa– perfect for fall brunching. Only 4 ingredients.
3. Make Ahead Pumpkin French Toast Strata
Sweet Challah bread with a rich custard of pumpkin puree, spices, milk, eggs, and maple syrup is made in minutes and then rests overnight. All you need to do is pop it in the oven in the morning and serve with your favorite fall fruits, sausages and crispy bacon. Not all heroes wear capes, some serve Pumpkin French toast. Click HERE for the recipe.
Want another great French toast recipe? Click HERE for my Simple Banana Custard French toast.
4. Butternut Squash & Spinach Lasagna
I love this recipe because it has all of my favorite things in one casserole: butternut squash, creamy ricotta and pasta. This heavenly concoction is a dish best served the day after you bake it. The flavors just intensify when they've had time to meld together in the pan. Click HERE for the recipe.
5. Oatmeal Pecan Pumpkin Scotchies
I developed this recipe when thumbing through a vintage Southern Living Cookbook and saw a recipe for Butterscotch pudding. Inspired to make it into a cookie- I pack oats, butterscotch morsels, toasted pecans and pumpkin purée into the dough. It's a bake sale treat that will sell out in minutes.
Click HERE for the yumminess.
6. Pumpkin Bread with Streusel topping
What Best of Fall Baking List would be complete without a pumpkin bread recipe? I gave my 2019 spiced pumpkin bread recipe a big makeover last year and came up with the ultimate in spiced quick breads. This recipe has a crumbly sugared streusel topping and the bread is loaded with FOUR spices and pumpkin. This bread really takes the cake. Click here for the very best pumpkin bread recipe.
7. Simple Mushroom Beef Barley Soup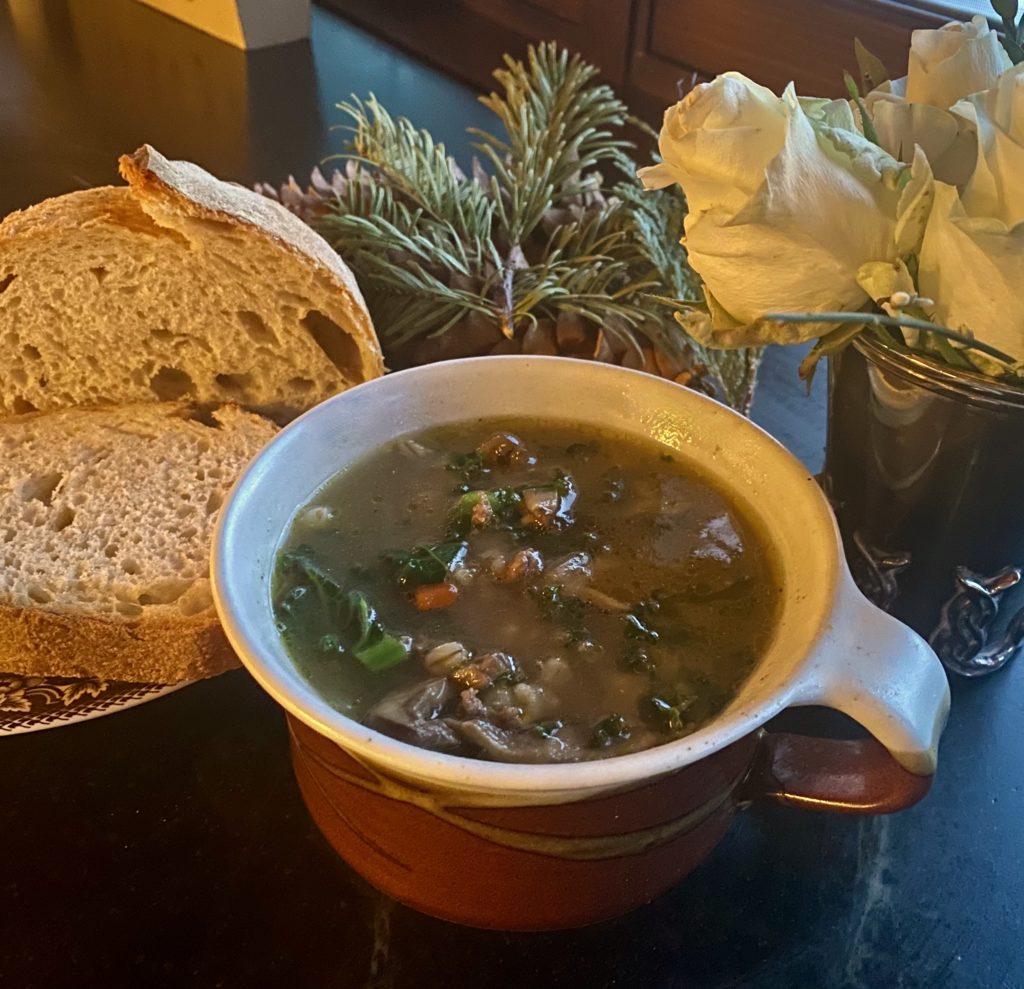 Mushroom Beef Barley Soup is filled with carrots, kale, two kinds of mushrooms, celery, onion and a big scoop of barley. Simmer with browned ground beef for a piping hot dish perfect for a night when there is a chill in the air. At only 180 calories per bowl, This hearty soup will fill you up without expanding your waistline.
Click HERE for the recipe.
Bonus: Try this recipe for Pacific Northwest Wild Mushroom and Rice Soup if you want even more mushroom yumminess.
8. Vegan Roasted Carrot with Coconut Milk
I know- vegan. Really? Trust me.
This is nothing short of the most luxurious soup you have ever tasted. Roast carrots and purée with fresh ginger and onions. Add in vegetable stock, warm spices like turmeric and paprika and round it off with rich creamy coconut milk. Sprinkle with chopped pistachios and pomegranates. Luscious… and healthy. Click HERE for the recipe. Need an immersion blender for the recipe? Buy my favorite HERE.
9. Wheat Berry, Kale & Butternut Squash Salad
I love a big salad . But during the Fall baking season, we tend to lean into the sweets. Here is a recipe with chewy protein packed wheat berries, pumpkin seeds, edamame, roasted chicken, kale, shallots, and cubed roasted butternut squash. This is a great recipe for meal preppers- the squash can be diced ahead of time, kale- chopped and chicken roasted in batches. Top with a tangy honey and olive oil dressing. Click HERE for the recipe.
Bonus- Looking for another salad try this fall? Blueberry-Broccoli Salad with Honey Yogurt dressing is a portable side dish perfect for fall entertaining.
10. Pumpkin Créme Caramel
A slightly advanced dessert, this créme caramel is a show stopper for your guests, but really- it's not very difficult to execute. I make a custard with pumpkin pureé, eggs, whole milk, vanilla and spices. Pour the hot custard into a caramel filled ramekin and bake in a water bath until set. Invert and serve.
Click HERE for the recipe.
Fall is my absolute favorite time of year. Spend a little extra time this season creating special meals and memories with your friends and loved ones.
Enjoy!
Meggen