Happy Friday Everyone.
In keeping with my Pumpkin Spice theme for the week, I'm making a rum spiked pumpkin spice latte- yep- another boozy coffee drink. But this one is hot, filled with pumpkin and RUM!
Take a pot of steaming hot coffee, add in dark rum, whipping cream or half and half, 1 heaping TBSP of honey, 1 teaspoon of pumpkin pie spice or cinnamon and pumpkin puree. Whirl it all in your blender- top with more whipped cream and some spices. Yummy oh Yummy!
For the Rum, I choose a softer, dark rum- Diplomatico Mantuano from Venezulea. It has a lightly smokey molasses flavor. This rum is aged for 8 years, so I think it blends in perfectly with this cocktail.
This drink is best served piping hot. You may want to heat up everything after you blend it. Ahoy you caffeine addicted pirates! This ones for you-Drink up!
Cheers!
Print
Pumpkin Rum Spiced Latte
8 oz hot strong coffee

1/4 cup pumpkin puree

4 oz whipping cream or half and half

1 tsp pumkin pie spice or cinnamon

1 TBSP honey

Whipped Cream for garnish

1/8 cup dark rum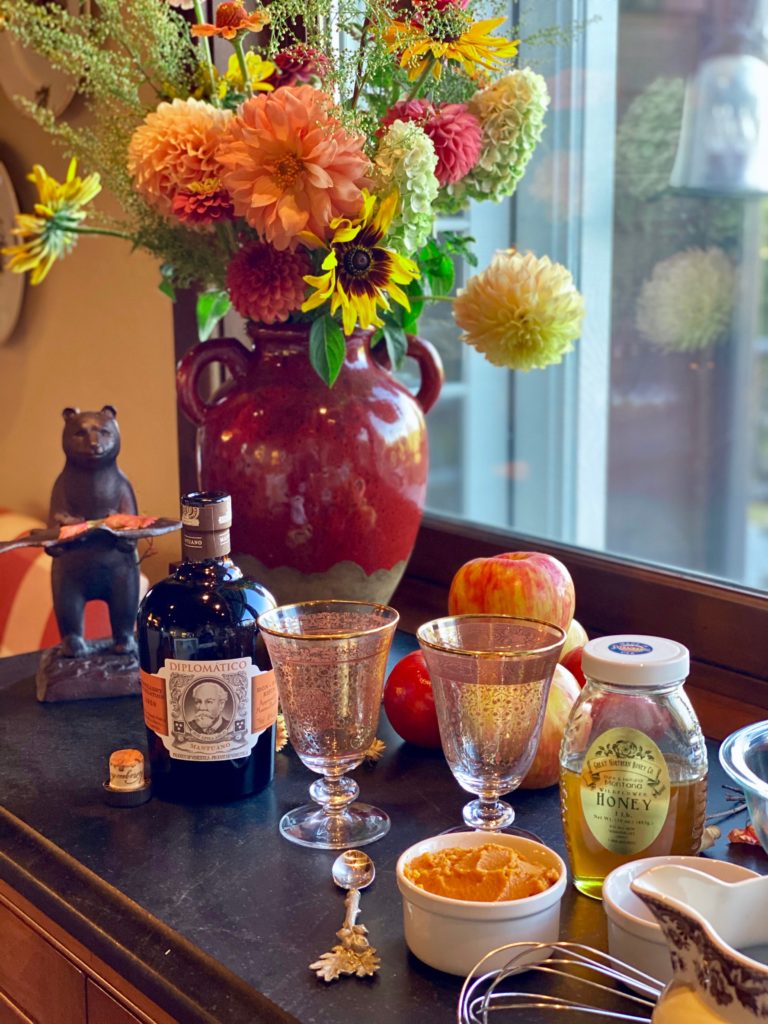 Print
Method- Makes 2 cocktails
In a blender, combine coffee, pumpkin, rum, whipping cream or half and half, pumpkin pie spice and honey.
Blend until frothy and light- about 15 seconds. Pour into coffee mugs.
If mixture is not hot, heat up on stove or in microwave for 45 seconds.
Top with freshly whipped cream and a dash of spice.