Wheat Berry, Kale & Butternut Squash Power Bowl
Today I have a little something that I worked on last week for you. It is a satisfying salad, that is packed full of hearty healthy veggies, protein and fiber rich Wheat Berries. Wheat Berries are not berries at all, but rather the edible part of a wheat kernel. They are available at almost all grocery stores in the rice or grain section. I buy mine from the bulk containers at health food stores or Whole Foods and only buy as much as I need. What Berries cost about $3.00 per pound. Pretty inexpensive considering how filing they are. They can get stale over time. Wheat berries are loaded with protein, fiber and iron. You can cook them and add to salads, soups or grind them into wheat flour. You can also plant them and have wheat sprouts for your salads. I like to boil them for about 45 minutes in a large pot of water,(I set them on the cooktop to boil and get dressed for the day) drain them, return them back to the hot pan off heat, cover and let the steam from the hot kernels and the pot continue to soften them without boiling any additional nutrition away.
Once they are cooked, you can throw them in the fridge and use later in the day. I tend to dress them right away though so that the dressing really soaks into the berries and creates a deeper flavor. For this recipe, since it is still winter out there, I thought a hearty mix of warm roasted vegetables mixed with a fresh sage dressing would be perfect. You can eat this dish hot or cold. I added in kale- did you know that to take the bitterness out of kale, you must massage it first? Yes, kale needs massaging. I then added, chopped dates, pepitas ( roasted pumpkin seeds), shallots in sherry vinegar (from my salad a few weeks ago), roasted butternut squash, edamame and chicken. Honestly, throw in whatever you have in the fridge- it'll probably be fantastic. Wheat berries can go with just about anything.
Finally, I added a sprinkle of goat cheese. Because- well- goat cheese. Manchego would be great as well. Anything kind of nutty compliments this recipe well. Hunky Hubbie is just so so on Manchego.
I love this kind of dinner- I make the main parts of the salad early in the day then when it's dinner time, I just throw everything in the bowl and serve it up. This meal is perfect for meal preppers- roast up all the veggies one night and you'll have dinner or lunch for at least two days. I don't get too hung up on measurements- amount of squash? Just buy a nice one- small to medium size- no biggie. Buy a pre cooked chicken. Make your life a little easier. Just throw it all in a gorgeous bowl and toss with the dressing. Easy- and healthy.
And don't tell the family it's kale and wheat berries. Just say "Protein Power Bowl- what Thor or Tom Brady would eat for dinner. "
Let me know what you think… Enjoy!
Print
Wheat berry, kale and butternut sqaush power bowl
1 cup dry Wheat Berries, washed and picked through- check for stones

1 small butternut squash, peeled and cut into 1-2 inch cubes

3 dates, pitted and cut into strips

5 cups kale, washed, chopped and massaged

3 shallots, sliced into thin rings

3 TBSP Sherry vinegar

3 cups cooked chicken, shredded or sliced into bite sized pieces

1 cup frozen Edamame, thawed

1/2 cup plus 2 TBSP olive oil, divided
1 TBSP honey

4-5 fresh sage leaves, chopped fine

1 tsp cumin
1 tsp coriander

2 tsp salt, divided

1 tsp pepper

1/4 cup roasted pepitas

1/4 cup goat cheese crumbles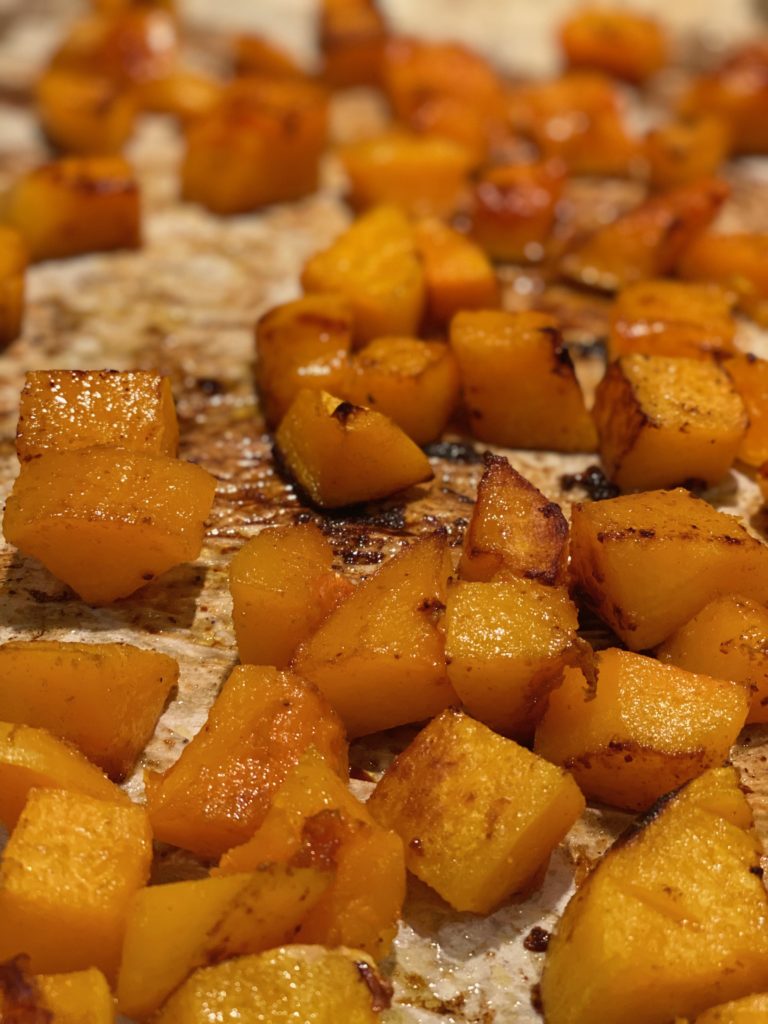 Print
Method- Prep time- 1 hour, cooking time 1 hour serves 6
Pre heat oven to 400 degrees.
Boil 1 cup of wheat berries in a large pot filled with water. After 40-50 minutes, when berries are tender but still have a bit a of bite, drain water. Return wheat berries immediately to warm pot, cover off heat and let steam while prepping other ingredients or chill until needed.
In a small bowl, toss prepared butternut squash with 2 TBSP olive oil, cumin, coriander, 1 tsp salt and a dash of black pepper. Spread out evenly on a sheet pan lined with parchment paper and roast for 30 minutes of until edges are browned and squash is softened and sweet. Set aside too cool.
While squash and berries are cooking, prep the shallots,. In a small bowl, add sliced shallots to sherry vinegar. Let shallots marinate for 30 minutes. After 30 minutes, pour vinegar into a large salad bowl for later. Set drained shallots aside.
Once all vegetables are prepared, begin assembling your salad. In the large salad bowl where sherry vinegar is resting, add sage leaves, honey, remaining salt and pepper. Slowly whisk in 1/2 cup of olive oil until mixture has thickened and combined. Check dressing for taste and adjust seasonings as needed.
Add in wheat berries and toss well to coat in dressing. At this point, you can chill the dressed wheat berries for later use or continue making the salad.
Add in kale, dates, shallots, pepitas, chicken and thawed edamame. Toss well. Finally, place squash on top of greens and sprinkle with goat cheese crumbles.
Serve in large bowls.