Make ahead: Classic Creole Red Beans & Rice Cooked in Beer
This is the perfect "what to feed a crowd" recipe that you can make ahead because it only gets better the next day. Red beans, spicy sausage and loads of peppers, pour on the Tabasco and call it "done"!
I adore beans and cook with lentils, white beans, lima beans, cannellini beans and red beans often. Beans are packed with protein, fiber and tons of vitamins. Pound for pound you can't do much better than using beans- espeically if you are trying to eat a more plant based diet.
Last year, I watched Grammy and Golden Globe winner, Jon Batiste, of Late Night with Stephen Colbert fame, make his Red Beans & Rice on Instagram. The recipe looked so wonderful, I knew I wanted to give it a try. See Jon make his beans here. Just to listening to his Louisiana accent is enough to inspire you to cook today.
My recipe uses canned beans, but beware. When buying beans- check the label to see how much sodium is in the beans. You can see my photos of several national brands of beans. Two "reduced sodium " cans had MORE salt than organic beans.
Check your labels!
Too much salt is NOT ideal for this dish- the sausage has SO much salt in it, so really pay attention to the labels and rinse the beans well.
This entire dish can be whipped up in about an hour, but it is even better the next day. Perfect for the weekend.
Enjoy!
Print
Red Beans and Rice- serves 6
3 cans organic dark red beans, rinsed well

1 cup chopped celery

1 cup white onion , chopped

1 green bell pepper, chopped
2 cloves garlic, chopped fine

12 oz. Smoked andouille sausage, cut into 1/2″ circles

1 TBSP olive oil

1 tsp kosher salt

1 tsp cracked black pepper

1/2 tsp garlic powder

1/2 tsp onion powder

1/2 tsp cayenne pepper

1 tsp Old Bay Seasonings

1/2 tsp cajun seasonings

1 bay leaf

3 cups chicken broth

1 can cold beer

3-4 cups hot cooked white rice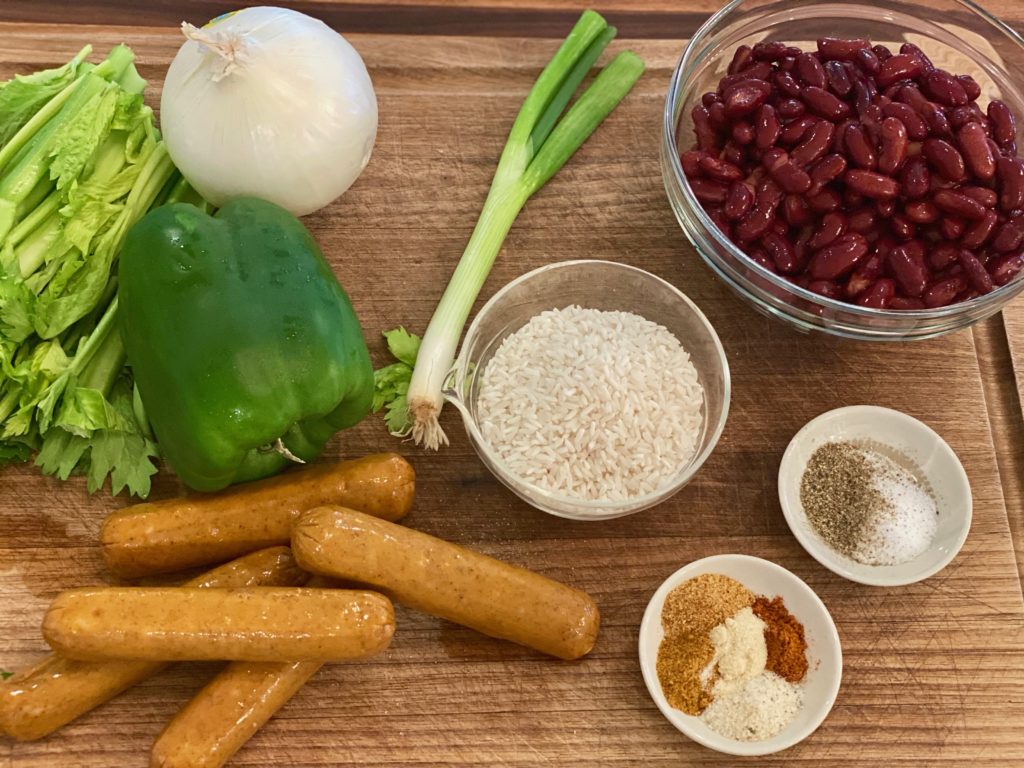 Print
Method- Total Time- 1 hour
In a large pot in 1 TBSP of oil, brown the sausage until the edges are crispy. Remove sausage from the pot and set aside.
In the fat from the sausage, sweat the vegetables- onion, peppers and celery on medium high heat until just softened- about 5 minutes. Add in the garlic. Cook for one minute. Add in the spices- onion powder, garlic powder, cajun spice, Old Bay and Cayenne Peper- Cook until fragrant. Deglaze the pan wih the can of beer.
Add the andouille sausage back into the pot. Add in the Bay leaf.

Pour in the chicken stock and let come to a simmer. Season with salt and pepper. Let the vegetables cook with the stock for 10 minutes. Add in the drained beans.
Let simmer for 20 minutes. With the back of a wooden spoon, smash some of the beans against the pot to thicken the mixture.
Cook on low heat , uncovered for 30 minutes more until well thickened, stirring often to keep the bottom of the pot from sticking.
Serve over hot white rice with Tabasco on the side. Remove the bay leaf before serving.
See my recipe for the perfect rice HERE.
Other rice dishes you might like to try: