Beef & Cauliflower Rice Keto Protein Bowl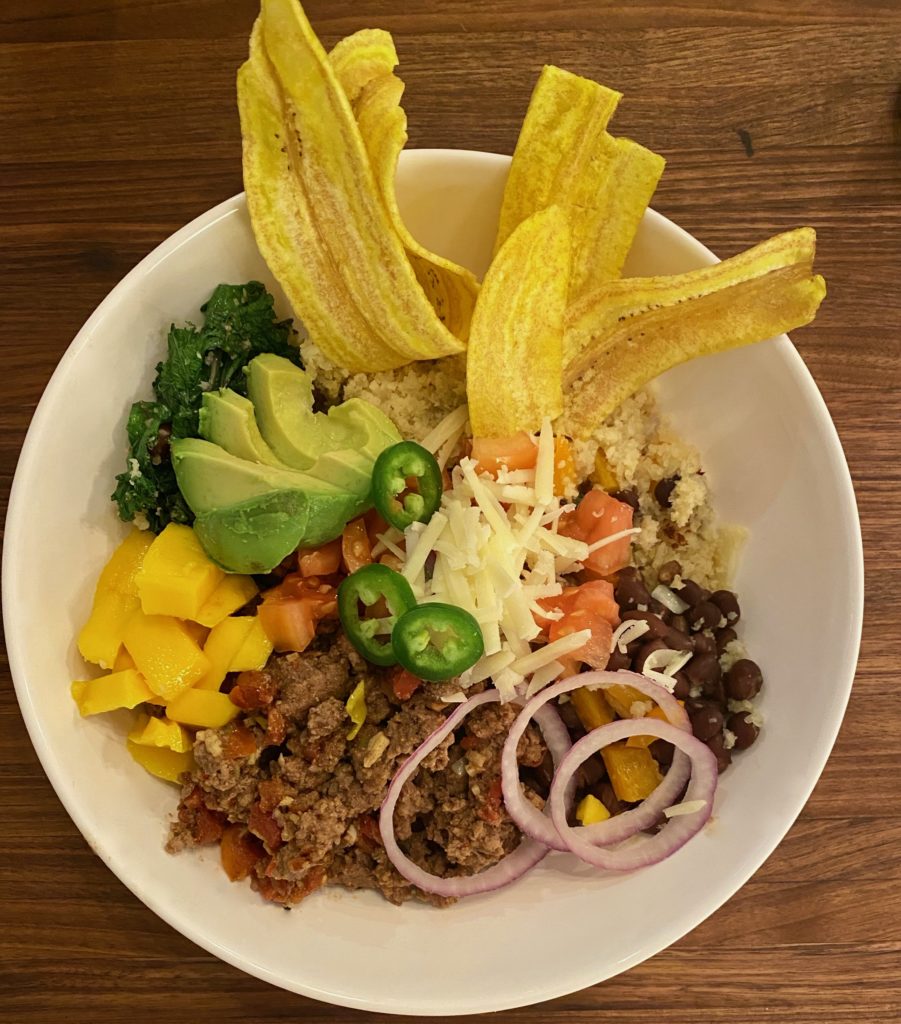 Sometimes I throw together a dinner based on what I have in my fridge and freezer and come up with something that is so good I decide to share it with you.
This is one of those times.
Normally, my husband and I love Taco Tuesday, but tacos are just so full of fatty items. I was looking for a healthier option that still has that satisfaction of taco night. Hence- the beef and cauliflower bowl. Cauliflower "rice" is so simple to make (or buy frozen) and it is a great option for a healthier base for the bowl than starchy white rice that will spike your blood sugar.
I just chopped up my raw head of cauliflower into 4 sections and blitzed it in my food processor in small batches to create a grain like texture- "rice". Some other bloggers suggest using a box grater but you can end up with more cauliflower on your floor than in your skillet.
I like my kitchen appliances to do all the work for me.
Create a taco meat with canned tomatoes and chilies, tons of cumin, smoked paprika, garlic and onions and then fill your bowl with the cooked "rice", beef and other Tex- Mex yumminess like black beans, a little chopped mango, avocado, jalapeños, tomatoes and even edamame for more protein. I added in sautéed kale for extra fiber and because all I read these days is to "eat leafy greens". Top it off with crunchy blue corn chips or a few plantain strips. I added a tiny bit of cheese for extra flavor, but you can skip it for a dairy free dish.
Then I made a super fast avocado crema with fresh avocado, lime juice, garlic, olive oil, onion, salt and more cumin. Whip it up in a high power blender and you have a super healthy dressing that tastes decadent but is so good for you. It takes less than 5 minutes to make the dressing, so don't skip it.
This is a great dish to make for a big crowd. Just set up a buffet and allow everyone to fill their bowls with whatever toppings they want.
Recruit folks to help with the chopping. Guests love to be involved and this is a fun dish for an active dinner party or holiday crowd. Serve with pitchers of sangria or cold Modelo beer.
Enjoy!
Beef & Cauliflower Rice Bowl- serves 6
2 lbs lean grass fed/finished ground beef

1 head cauliflower or 2- 10 oz bags of frozen "riced" cauliflower

1 large can black beans, rinsed

2 -10 oz cans canned tomatoes and chilies

5-6 cloves of garlic, minced

1 cup yellow onion, chopped

1 purple onion, cut into rings

1 bell pepper- red or orange, chopped
1 large tomato, chopped

1 jalapeño pepper, seeded, cut into rings

2 avocados, sliced

1 lemon

1 bunch fresh kale, washed well, spines removed and torn into pieces

1 heaping TBSP cumin

1 tsp smoked paprika

2 tsp Kosher salt, divided

1 tsp garlic salt

1 tsp black pepper

olive oil

1 cup grated cheese, cheddar, monterey jack, cojita

cilantro

plantain strips or blue corn chips

For the Avocado Crema

Juie of 3-4 limes

2 avocados

1/4 cup olive oil

1 tsp kosher salt

1 tsp cumin

1/2 cup chopped onion

3 whole garlic cloves
Method- cooking time- 30 minutes, Prep time- 1 hour
You will need 2 large skillets or pans for this recipe.

In the bowl of a food procesor, pulse the cauliflower in batches to create a grainy like substance or "rice". Be sure to do this in several batches or else the cauliflower will become too smooth or "paste like" to use.

Heat 1 tsp olive oil in a large skillet and cook the cauliflower "rice" for 5 minutes adding 1 tsp of kosher salt until it just begins to have light color. Set aside and keep warm.
In the same skillet, over medium high heat, add the ground beef and finely chopped onion and brown for 5- 6 minutes until crumbly, drain any excess fat from the pan.
Add to the beef, 2 cloves minced garlic, 1 TBSP of cumin, remaining salt, smoked paprika, garlic salt, pepper and canned tomatoes and chilies. Cook until all the ingredients are hot and well combined- about 5 minutes. Simmer on low, covered.
In a second pan, sauté the kale with 3 cloves of garlic in 1 tbsp of olive oil. Add in the bell peppers. Sauté until just softened- about 2 minutes on medium high heat. Create a little space in the pan and heat the black beans.
Slice avocado and squeeze lemon juice over the slices to prevent browning. Set aside.
To serve, assemble on a large platter the cold vegetables and ingredients- purple onions,

jalapeños

, mango, chopped tomato, cheeses, cilantro and chips.
Serve the meat and hot vegetables and rice directly from the pans starting with the rice first.
Layer each bowl with cauliflower rice, hot veggies, beef and toppings. Drizzle with avocado crema or hot sauce (recipe below).
Avocado Crema
In the bowl of a high powered blender, add pitted avocados, lime juice, garlic cloves, salt, cumin, olive oil and onion.
Process until smooth. Serve cold.
A standard blender cannot produce the consistency you need for this dish. A food procesor works well or just serve guacamole.