Friday Cocktail Hour- Jammy Cranberry Moscow Mule
This is a refreshing cocktail to enjoy during cranberry season. It is very drinkable- almost dangerously so. Perfect for an Aprés Ski libation or just to warm things up for the weekend.
Begin by making a quick cranberry jam- just cook down water, sugar, mint and cranberries . Keep it in the fridge to add body to your cocktail . Shake together vodka, cranberry juice, lots of lime juice, the jam and ice.
I use light cranberry juice- not the high sugar stuff.
Pour into a chilled copper Moscow Mule mug and top with spicy ginger beer. Then garnish the heck out of it with sliced cranberries, rosemary sprigs or lime wheels. It's as pretty as it is tasty.
If you don't want to make the jam, store bought is fine as well. Even cranberry sauce works. Use a high quality ginger beer with lots of spice.
Cheers to the weekend!
Print
Ingredients
1 TBSP cranberry jam or whole cranberry sauce

1 oz vodka

2 oz lime juice

2 oz low sugar cranberry juice- not cranberry juice cocktail

Cold ginger beer

Ice

Copper Moscow Mule mugs

garnish with lime wheels, rosemary springs or whole cranberries, sliced in half

Cranberry Jam

1 cup cranberries

1/3 cup sugar

mint leaves

1 cup water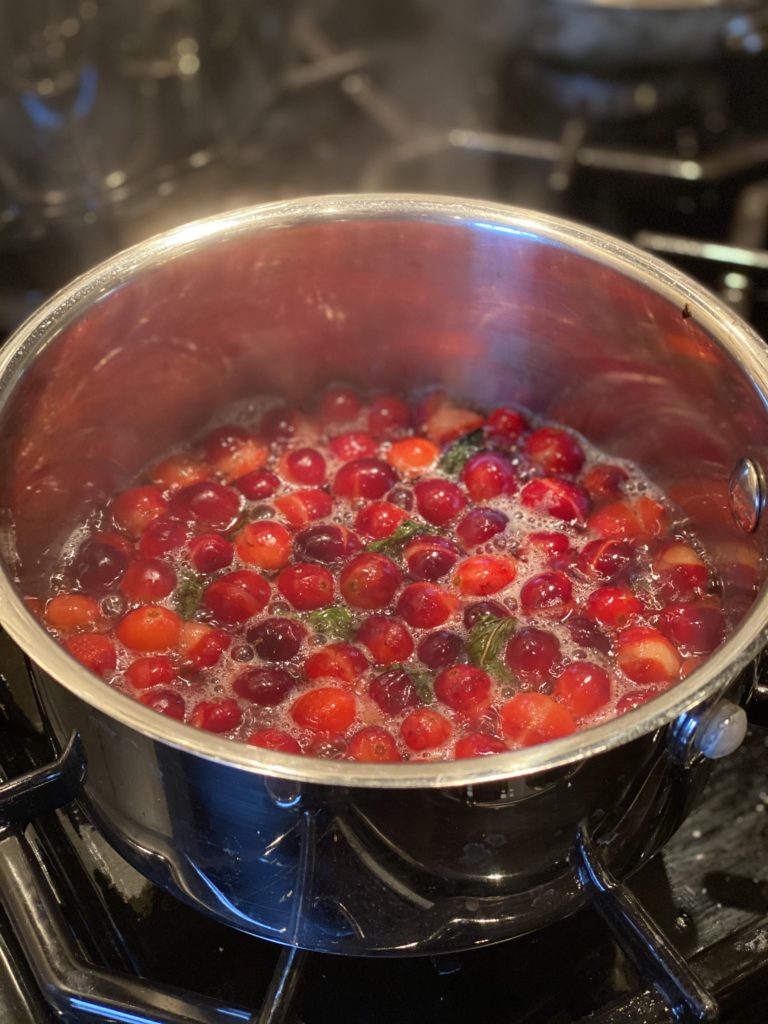 Print
Method: makes one cocktail
For the Jam
Bring cranberries, sugar and water to a boil. When berries begin to pop, reduce to a simmer. Cook on low until mixture is thick and berries and soft. Add mint leaves. Once cool, store in the fridge up to 7-10 days. Remove mint leaves after 1 day.
In a cocktail shaker, add 1 TBSP jam, 1 oz vodka, 2 oz lime juice, 2 oz cranberry juice and ice.
Shake until the vessel is frosted over. Remove top and pour into a cold copper moscow mule mug. Top with chilled Ginger Beer.
Ganrish with rosemary sprig, lime slices and sliced cranberries.
Thre are so many great ginger beers on the market.
My favorites are Bedford, Cock & Bull, and Fever-Tree .Trader Joe's also sells a really good Ginger beer.
Ginger beer is NOT ginger ale nor is it root beer.