Chocolate Cream Pie with Bailey's Whipped Cream
The hardest thing about making this luscious Chocolate Cream Pie is … waiting.
The pie needs a minimum of 8 hours to chill ( best if overnight) so the filling sets up properly. Read through the instructions carefully before beginning for best success. Be sure to temper your eggs gently so you have a silky smooth custard. Use fresh cornstarch and leave your eggs out overnight so they are room temperature.
If you cannot find Famous Wafers (sometimes they are in the ice cream section) you can use Thin Oreos. If you do not have a food processor to make the crust, a plastic bag and a rolling pin will grind the wafers up just fine.
This pie is thick and so creamy, but surprisingly light. The boozy whipped cream makes it extra special for a party or just when you really want that show stopper desert.
Enjoy!
Print
CHOCOLATE Cream Pie:<br>Chocolate Cookie Crust
1 package thin chocolate cookies- I use Famous Wafers- about 3 cups

4 TBSP unsalted butter, melted
1/4 tsp kosher salt

Chocolate Cream Filling

2 1/2 cups half & half

1/4 tsp kosher salt

1/2 cup sugar, reserve 3 TBSP

2 TBSP cornstarch

6 egg yolks, room temperture

6 TBSP COLD unsalted butter, cut into pieces

7 oz semi sweet chocolate, chopped into chunks

1 tsp vanilla

Bailey's Whipped Cream Topping

1 1/2 cups heavy whipping cream

1 TBSP sugar

2 TBSP Bailey's liqueur

Dark chocolate bar for shavings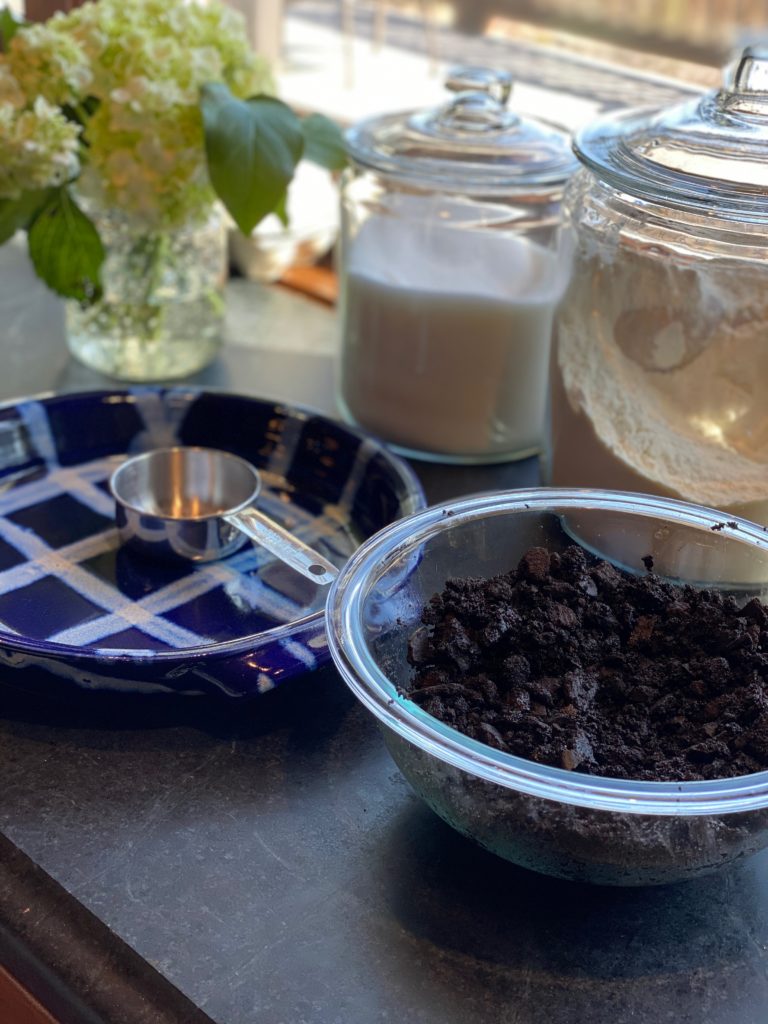 Print
Method- Prep time 8 hours minimum, Serves 8 <br>For the crust:
Pre heat oven to 325
In a food processor, pulse cookies until they resemble sand. Pour in melted butter & salt and pulse a few times until combines.
Pour crumb mixture into a 9″ pie plate. With the back of a measuring cup, press the crumbs into shape to form the crust.
Bake at 325 degrees for 10-15 minutes.
Cool completely.
For the Chocolate Cream Filling :
In a small bowl, mix sugar ( all but the reserved 3 TBSP ) and cornstarch . In a medium bowl, beat the egg yolks until glossy and creamy. Whisk sugar and cornstarch into eggs until sugar dissolves- about 1 minute. Set aside.
In a medium size saucepan over a simmer, combine half and half, salt, and the reserved 3 TBSP of sugar. Stir until sugar dissolves. When half and half begins to have tiny bubbles along the sids of the pan, slowly ladle small amounts into the egg mixture bowl to temper the eggs ( so they do not scramble).
Eventually add in 1 cup of the half and half mixture to the eggs. Slowly add tempered eggs mixture back into the saucepan on low heat. Return to a gently simmer. Whisking constantly bubbles will appear on the surface. Mixture will begin to thicken in about 3-4 minutes.
Remove saucepan from the heat and quickly add in butter, one TBSP at a time whisking well to melt. Scrape sides and bottom of the saucepan to loosen any of the custard. Add in vanilla and chocolate chunks whisking, off heat to incorporate.
Pour the chocolate custard into the cooled chocolate cookie pie crust. Cover with plastic and chill at least 8 hours or preferably overnight.
For the Bailey's Whipped Cream Topping:
In a stand mixer, with a whisk attachment, beat heavy cream, sugar and liqueur on medium low until frothy- about 30 seconds. Increase speed to high and beat until thick and creamy and stiff peaks have formed- about another 45 seconds. Do not overbeat.
Spoon whipped cream on top of pie. Top with chocolate shavings if desired.
Slice into wedges and serve to smiling faces.