Quick Side Dishes: Spinach Au Gratin with Panko Topping
Steak house quality spinach au gratin made with just butter, parmesan and mayonnaise. Shhh- Don't tell your guests how easy it is.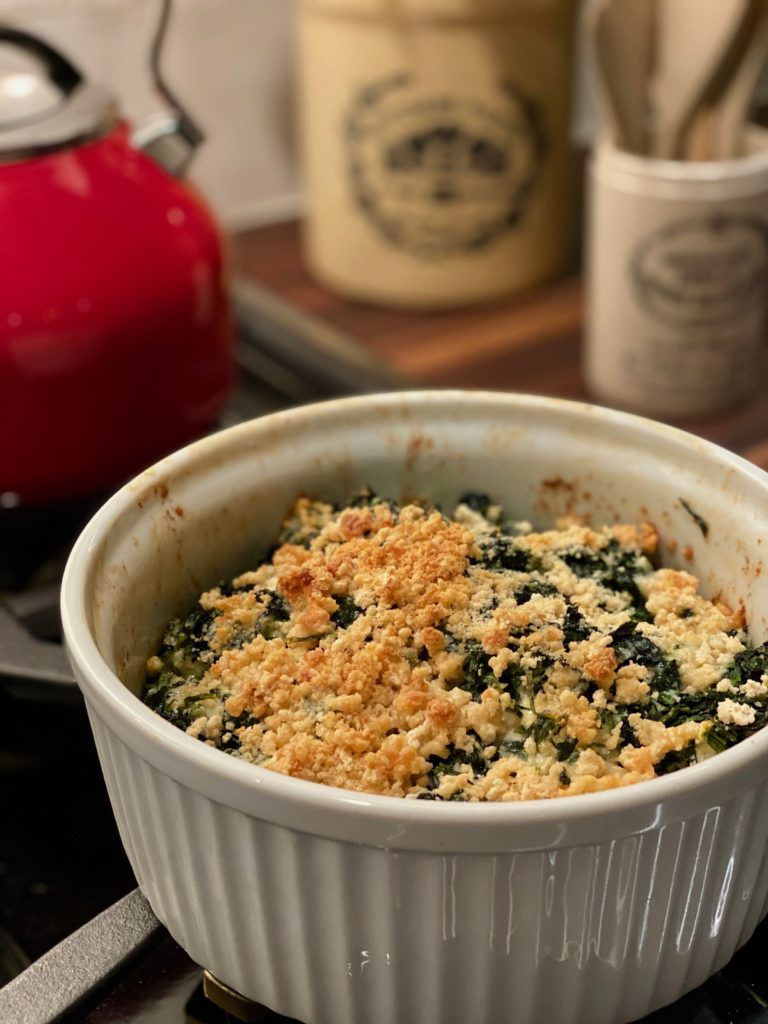 This is the easiest side dish you will ever make. Ever. It has five ingedients- frozen spinach, mayonnaise, parmseasan cheese, butter and panko bread crumbs. No salt or pepper. A little nutmeg if you like. Hunky Hubbie loves this spinach. Served with brown rice and parmesan breaded chicken cutlets is his favorite dinner. He never gets tired of it.
Despite its' simplicity, this spinach dish delivers on taste. It is not the gloppy spinach au gratin with too much cheese, grease and lackluster flavor.
I use frozen spinach- I ve tried fresh, but it just doesn't cook up the way I want it to. Chopped frozen spinach is the best vehicle for the other components. You do not need to use expensive parmesean- I know. Blasphemy. This is the brand I use. Freshly ground has too much moisture.
Cook the spinach in a dry pan just to help the water evaporate- you want the spinach to be very well dried out.
Then throw everything in an oven proof dish, cover with panko, bake 15-20 minutes- done. Easy as can be. I feel guilty even calling this a "recipe" because it is so simple.
Enjoy!
Print
Spainch Au Gratin- serves 4
20 oz ( 2- 10 oz boxes) frozen chopped spinach, thawed

1/3 cup mayonnaise

1/2 cup parmesan cheese, grated

1/2 stick ( 4 TBSP) unsalted butter, softened

1 tsp nutmeg

1/4 cup panko bread crumbs
Print
Method- prep time 10 minutes, baking time- 20 minutes.
Pre heat oven to 350 degrees
In a large skillet, stir the spinach on medium low heat until most of the water is evaporated. About 5 minutes. Add in nutmeg. Cook 30 seconds longer.
Break up spinach with a fork to loosen the leaves. In a bowl, mix the spinach, mayo, butter and cheese until well distributed throughout. Place in a greased 2 qt oven-proof dish. Top with panko crumbs. Bake at 350 for 20 minutes or until panko is golden brown.