One Dish Mediterranean Baked Chicken with Tomatoes, Spinach and Feta
Packed with tons of healthy Greek vegetables and tender chicken, this one dish meal will soon be on your "most requested" chicken dinner rotation.
I made this casserole out of frustration- pure simple frustration. I keep seeing an Instagram influencer- a very cute young mom whose "catch" is to wear uber trendy "fast fashion" outfits, loads of make up, perfectly coiffed hair and smile while she dumps a bunch of pre-packaged, processed ingredients into a casserole, top everything with pre-grated cheese from a plastic bag, bake and call it dinner.
Enough.
We can do better.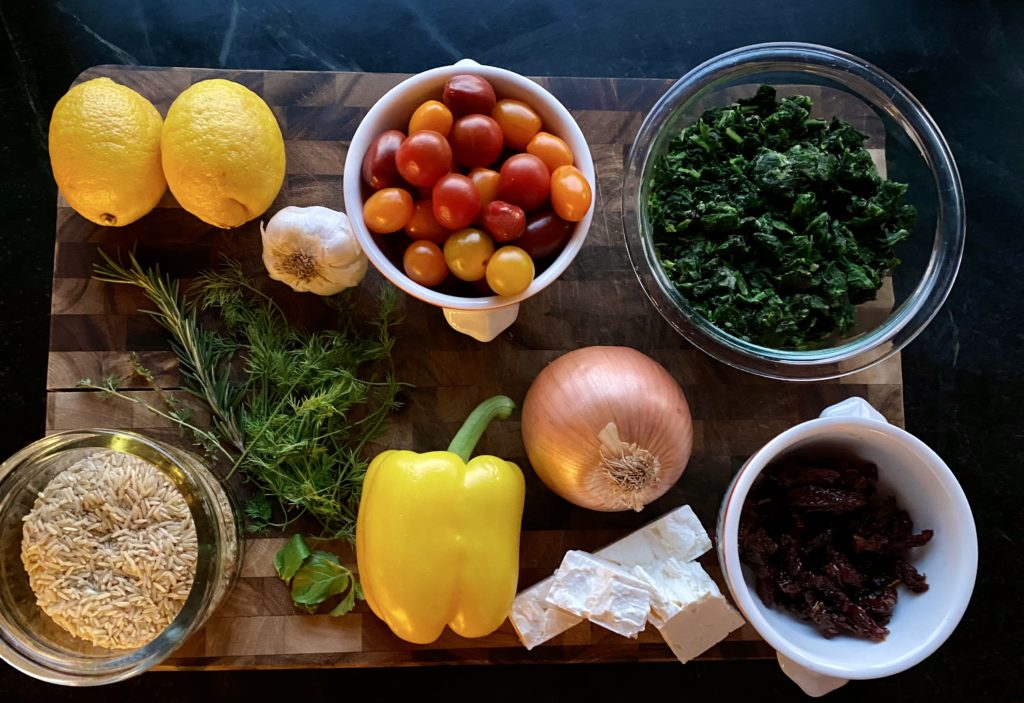 Let's substitute cream of Fill in the blank, mushy canned vegetables loaded with salt, jarred Alfredo sauce and pre shredded, packaged chicken for bright vegetables, lemon, brown rice and fresh herbs.
This dish is to show all the parents or busy folks out there, you can make a quick casserole without sacrificing flavor, fresh ingredients or your health. I try and use pantry staples like long grain brown rice, Better than Bouillon, sun dried tomatoes and frozen spinach (I keep bags and bags of it in my freezer).
Lemons, onions, peppers and garlic are always in my kitchen. Stock up on big ticket items like the sun-dried tomatoes and feta from Costco.
Elevate your weeknight or weekend cooking with this hearty dish that really satisfies without sacrificing taste or health.
Jump to Recipe
This yummy casserole is packed with brown rice, lemon, feta (use block feta) two kinds of tomatoes, onion, pepper, garlic, rosemary, dill, mint and oregano and a 12 oz bag of frozen spinach. I used fresh herbs, which take about 1 minutes to chop, but you can easily use a dried Greek or Italian herb seasoning blend from the spice aisle at your grocery store. Lately I have been ordering organic chicken from Pasturebird (not a sponsored post). This chicken, which is delivered right to your door, is next level. You will never go back to buying supermarket chicken after eating this poultry. No matter what I do- the chicken is moist, tender and incredibly flavorful. Give them a try.
All you do is spread UNBAKED brown rice in the bottom of a heavy casserole dish ( I used 9 x 13) then top with the chicken breast with the fresh herbs. Surround the chicken with tomatoes- I used sun-dried tomatoes packed in olive oil and sliced cherry tomatoes. I then add 2 teaspoons of Better than Bouillon to 2 cups of water and mix well. You can use 16 oz of broth or stock if you prefer. Pour this around the chicken and tomatoes.
Next, chop 1/2 a large yellow onion, 2 cloves of garlic and a pepper- whatever you like- I used yellow and sauté for a few minutes in olive oil. I seasoned the veggies with a sprinkle of dried Italian herbs, salt and pepper. Then toss in a 12 oz bag frozen bag of spinach- thaw first if you have time. Spread all of this on top of the herb covered chicken. Sprinkle with crumbled feta, top with thinly sliced lemons and a 1/4 cup of panko bread crumbs. Don't have panko (why???) Use regular bread crumbs.
Cover and bake at 350 degrees for 45 minutes. The chicken will be tender and so juicy. The rice is fluffy and perfectly cooked. The vegetables are melt in your mouth amazing.
I hope you give this recipe try and comment on how it turned out. Post your photos on my Instagram or Facebook page.
Enjoy!
I know the list of ingredients looks long, but really it is mostly the herbs and seasonings. Everything chops up and is assembled in a flash. Pop this in the oven, have a glass of wine and relax.
Like this recipe? Try these as well: