Friday Cocktail Hour – Frozen Brandy Alexander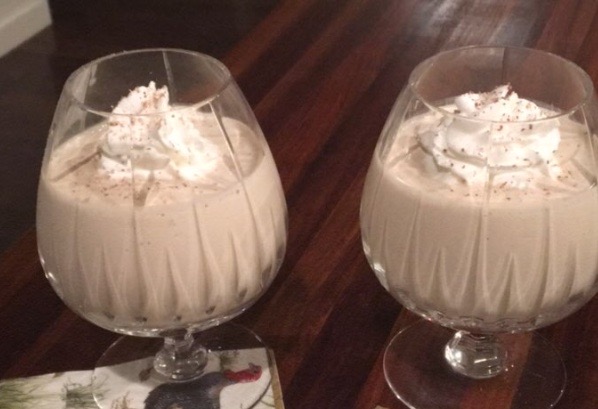 I began drinking Brandy Alexander's back in the days when we belonged to our local Country Club. Brandy Alexander's were the perfect frosty boozy drink to enjoy after a big Sunday Supper at The Club and no one really wanted to go home and think about Monday. You could linger the table with your friends and slowly sip this spiked dessert in a beautiful brandy snifter.
My version has a slight coffee taste- it's dreamy, frothy, thick and creamy. After we built our family home with a big pool and our middle daughter stopped playing golf, we resigned from the Club, so I needed to find a way to get my Brandy Alexander kick on my own. Hence, this recipe. Even though this is a frozen drink and it's now fall, the coffee and brandy lend themselves well to Fall flavors.
Sunday Suppers, now that we are empty nesters, are often spent eating out after going to 5:30 church and then having a cocktail. We still linger at the table though- not wanting to think about Monday.
Enjoy!
Print
Frozen Brandy Alexander- makes 2 cocktails
2 Cups coffee ice cream

2 Oz Brandy

2 Oz Creme De CaCao

Whipped cream- for garnish

Nutmeg, freshly grated
Print
Method- Prep time- 5 minutes, cooking time- 10 minutes
Place ice cream in fridge to soften while gathering your ingredients
In a blender, mix until smooth, Brandy, Creme De Cocoa and Ice Cream
Pour into Brandy Snifters. Garnish with a dollop of fresh whipped cream and a sprinkle of nutmeg or grated chocolate