Key Lime Martini at The Peacock Lounge
Last February, Hunky Hubbie and I drove on yet another Seattle to Montana road trip, but this time it was during Snowmagedon 2019. Seattle is not known for getting much snow. Just so that you understand just how bad it was, February 2019 recorded 20.2 inches of snow. That is the second most snowfall in the city since 1894. And to make matters worse- the Starbucks in Kirkland closed. Closed!
We were only able to make it as far as Spokane because I-90 was down to one lane in many places and coated with snow and ice. Scary stuff.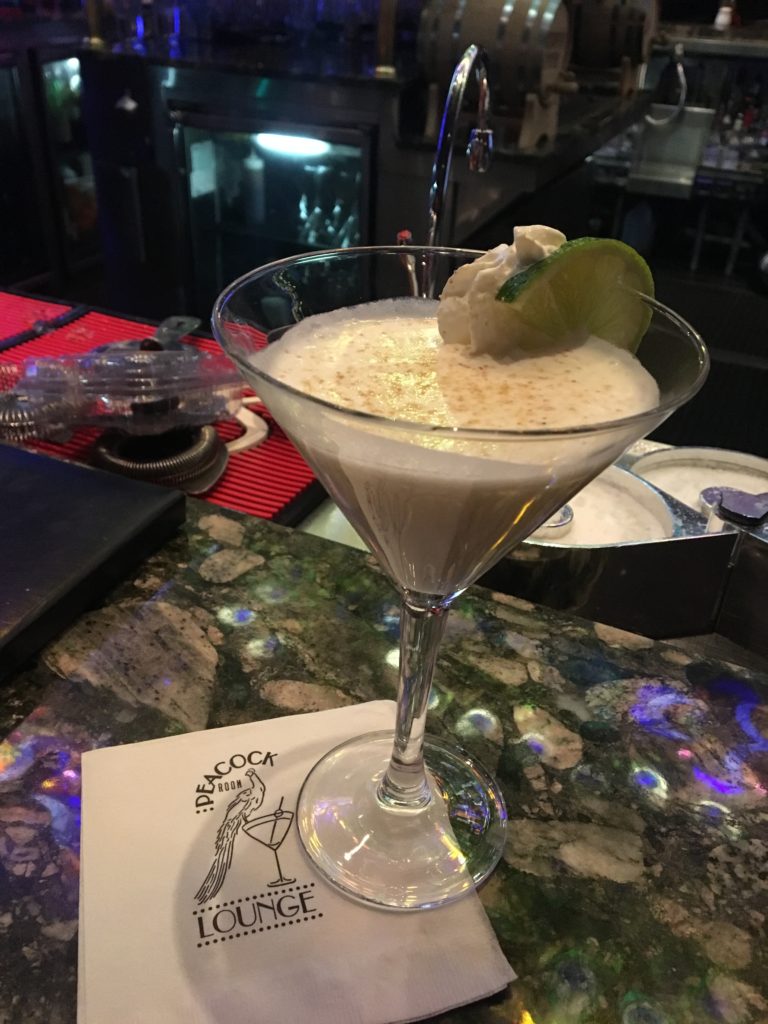 Thankfully, we were able to stay the night at the beautiful Davenport Hotel in Spokane. It is a historic hotel with charm from the early 1900's. The hotel is clad in romantic furnishings, beautiful marble, antique sconces, soaring ceilings and painted beams. And it is dog friendly hotel.
We enjoyed a light supper in the famous Peacock Lounge. The spectacular Jazz Age room has a breathtaking 5000 piece stained glass ceiling.
I indulged in a Key Lime Martini – basically dessert in a glass. It was crisp yet creamy and very tart just as a good lime pie would be. Here is my interpretation of that delicious cocktail. After a long day, don't you deserve a little indulgence of your own. Happy Friday!
Print
Peacock Lounge inspired Key Lime Martini
Graham cracker crumbs
1 TBSP super fine sugar
4 TBSP vodka- I prefer Winter Park Distilling Co. Genius Drive Vodka* see notes on where to purchase
1 lime
2 TBSP Key lime juice- freshly squeezed
2 TBSP simple syrup
Dash of vanilla
1/3 cup heavy cream
1/2 ice
Whipped cream for garnish
Lime wedge for garnish
Print
Method
makes 1 martini
Combine graham crackers and super fine sugar in a shallow dish. Set aside.
Moistened the rim of a martini glass with the wedge of a lime. Dip the martini rim into the graham cracker crust mixture. Set aside.
Combine Vodka, simple syrup, vanilla, lime juice, cream and ice into a martini shaker. Shake vigorously until shaker is frosted over- at least 1 minute. Martini should be frothy.
With a strainer, gently pour into rimmed glass- do not disturb the crumb rim.
Garnish with a small dollop of additional whipped cream and a lime wedge.
*Notes- We prefer Winter Park Distilling Company Vodka for our martini's. You can purchase at local ABC liquor stores or Publix liquors or visit the Distillery – The Bear and Peacock in Winter Park, Florida.