Top 11 Thanksgiving Side Dishes to try in 2023
Top 11 Thanksgiving Side Dishes to try in 2023
My favorite tried and true sides that you can delegate, make in advance or whip up in a flash for your Thanksgiving feast. Scroll to the bottom for a BONUS recipe.
Turkey- check
Pies- check
Wine & cocktails -check
But what to serve on the side?
With so many incredible dishes to choose from, here is my list of great holiday side dishes that you can share with friends and family this year. Just click on the link for the full recipe.
1. Pomme Dauphinoise- Gruyére and Parmesan Scalloped Potatoes
Pomme Dauphinoise (or scalloped potatoes) is a baked creamy dish of cream, gruyére and parmesan cheeses. It's a fresh and much more luxurious take on plain ole mashed potatoes. Best of all, no peeling! Click HERE for the recipe.
2. Simple Mashed Butternut Squash Casserole
I love a dish that is traditional, but a bit unexpected at the same time. Try this roasted butternut squash casserole instead of the same ole sweet potatoes topped with marshmallows or pecans. This recipe for mashed butternut squash couldn't be easier and it is sure to be a crowd pleaser. Click HERE for the recipe.
3. Quick Spinach Au Gratin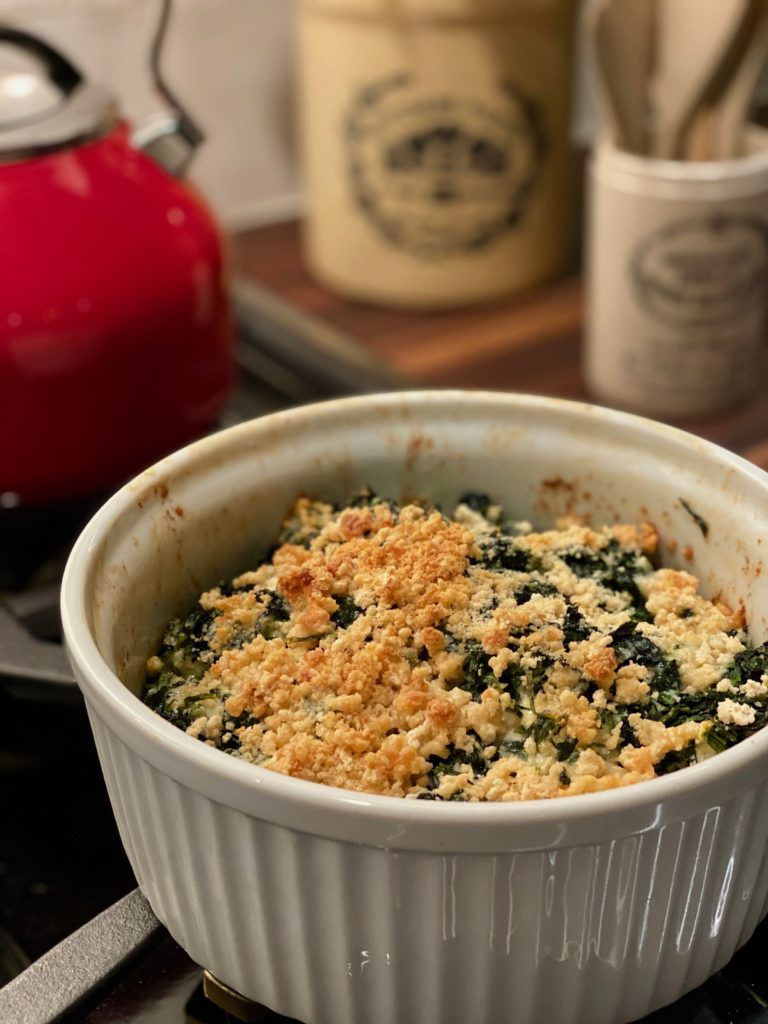 I have been making this simple spinach dish for decades- I do mean decades. It's a crowd pleaser and will hold up against any steak house spinach dish out there. With only 6 ingredients (and you can make it ahead) add this to your buffet this season. Recipe is HERE.
4. Roasted Brussel Sprouts, Pecans and Squash
This side dish had a little something for everyone: sweet, savory, sour, crunchy, and just delicious. Delicata and Butternut squash compliment each other beautifully with a tangy vinaigrette dressing. Enjoy this one. Folks will ask for the recipe. Click HERE
.
5. Green Beans with herbs and pine nuts
I love this simple dish with bright lemon, fresh herbs and crunchy pine nuts toasted just enough to bring out their oils. It's a no fuss veggie dish that will lighten up the other heavy dishes. Click HERE for the recipe.
6. Buttery Baked Pineapple Gratin
My sweet friend, Robins Swann, made this dish one Easter ages ago and I fell in love with it. Simple canned pineapple, crackers, butter and eggs come together in a flash for this traditional Southern recipe. Typically served in the spring, I just love the bright color and the crispy edges paired with my Thanksgiving table. Yes- please! Click HERE for the recipe.
7. Meggen's Most Requested – Grown Up Mac 'n Cheese
This dish is so decadent, I only serve it up once a year. You will definitely want to sign up for the local Turkey Trot to burn off this casserole of carb happiness. Click HERE for cheesy happiness.
8. Sweet Potato Pecan Casserole
You didn't think I was going to leave you without this absolutely incredible sweet potato casserole, did you? My all time favorite sweet potatoes are from Ruths Chris' restaurant. This recipe is as close as I could figure. It is not too sweet. The topping is a perfectly crunchy mix of pecans and salty goodness. Make it ahead. It's a winner. Click HERE for the Best sweet potato recipe.
9. Vegan Quinoa roasted vegetables with caramelized lemon vinaigrette
A thoughtful host will always ask if any guests have dietary issues. This roasted veggie bowl is not only vegan ( sub olive for butter when cooking the lemons) , but it is so delicious you may want to add it to your regular meal rotation. Click HERE for this healthy side dish that is really a great entree.
10. Kale & sugar snap pea skillet
I really love fresh green items as sides for Thanksgiving. Don't get me wrong- a rich potato dish or Mac 'n cheese is sublime, but having a healthy side dish or two, makes the meal so much more enjoyable than just a soft food bonanza. This simple skillet can be prepped in advance and then just toss together while enjoying a glass of wine. Cheers! Click HERE for Kale.
11. Southern Cornbread Stuffing
Is it dressing or stuffing? I don't really know, but I do know, if this is not on my Thanksgiving table, I am going to be some kind of disappointed. There is NO cutting corners on this recipe. Make the cornbread first, chop the veggies, add in all the butter and stock. This recipe has been in my family for 50 plus years. It's that good. Give it a try. Click HERE for Southern cornbread nirvana.
BONUS- The VERY best tipsy cranberry sauce.
Click HERE for the most divine cranberry sauce recipe. I can it in pint jars and give it out as gifts each year. Enjoy! Happy Thanksgiving.