13 Best Places to Dine while Visiting Glacier National Park: 2023
After 20+ years of visiting & hiking through Glacier National Park, I know the BEST places to picnic, grab a bite to eat enjoy a cocktail and relax. Check out my list and start planning your trip to one of the most beautiful National Parks in North America. Also, read below for a hack and a link to get a daily vehicle entry pass.
When visiting Glacier National Park in Montana, planning is the key to having a great adventure. Every year the road construction schedule, ticket requirements and visitor counts are different. The first place you need to look for information should always be Glacier National Park's Website. My second most recommended spot for info is the Trip Advisor Glacier Park Travel Forum. Read other folks trip reports before asking a question. Chances are- the answer to your question is on the forum. Also consider joining the Facebook Glacier Park Hiking group. This group has lots of sound advice.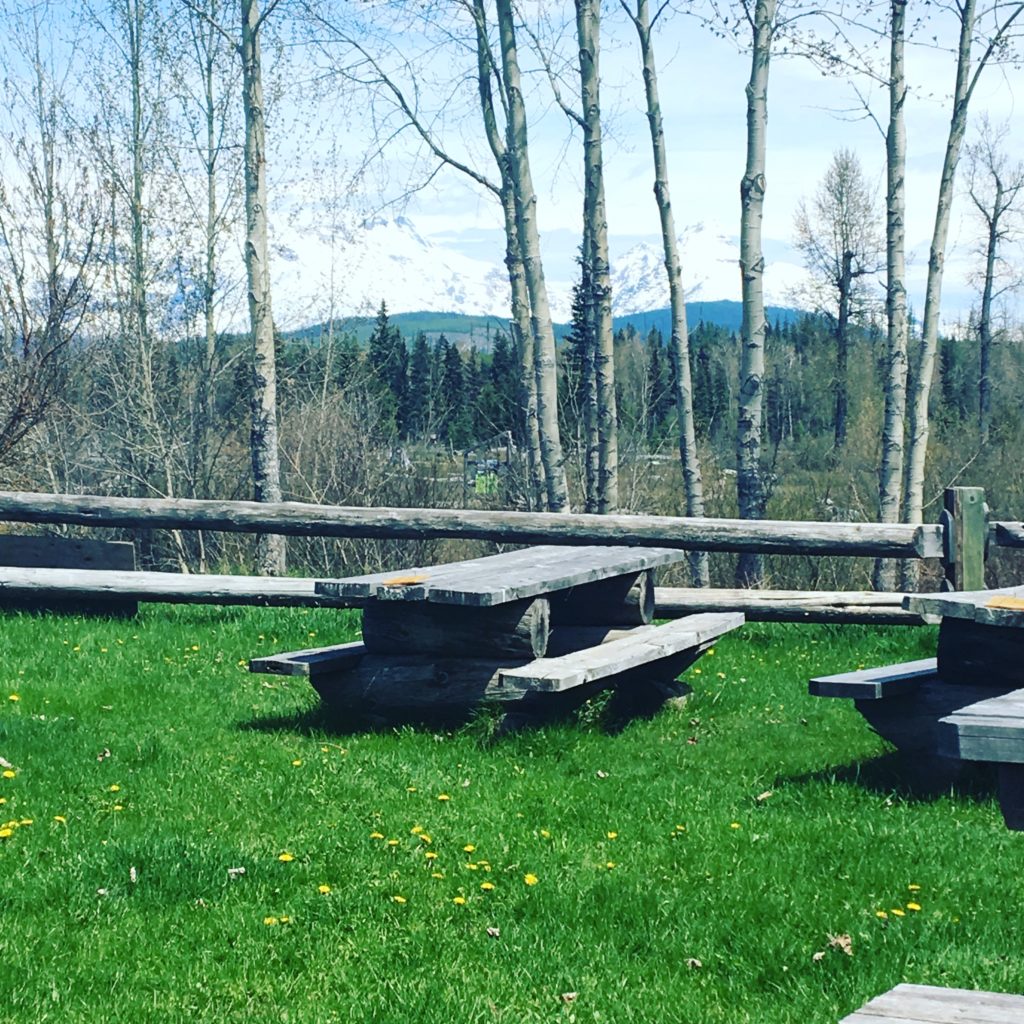 9 Spots for Scenic Picnics:
1. Shores of Lake MacDonald near Apgar Village – *2023 update* the GTTS road from Apgar village to Lake Macdonald Lodge is under construction this year. You cannot access the road before 6:00am and at 7:00PM, the road crews close down one lane. There are normally lots of pull over spots, but this year, the road is very dusty. Opt for picnic spots on the road either around Apgar or just past Lake MacDonald Lodge. Note- the road to the Lake Macdonald ranger station is also closed for the year. Other years-there are numerous vehicle pull outs and picnic spot along the shores of the lake. Pro Tip: Bring bug spray
2. Alvalache Lake hiking trail and lake– along the babbling brook of MacDonald Creek, you will find many fallen logs to rest and soak your feet as well as a few large rocks to sit on at the lake. Pro tip: bring a heavy blanket- the rocks can be cold and wet.
3. Hidden Lake trail– Most people stop at the scenic overlook, but if you hike down just about another 100 yards, there are quiet places to picnic on large boulders. Pro Tip: Do not feed the chipmunks or Marmots.
4. Picnic tables in Polebridge– there are a few picnic tables scattered outside the Mercantile in Polebridge. Pro tip: buy a Huckleberry Bear claw at the Mercantile.
5. Decks and porches at any of the Lodges: Glacier Park has some of the most scenic and iconic historic lodges in the country, almost all of which have beautiful decks and green spaces to unpack your backpack and enjoy a sandwich and a cold drink. Public restrooms are always plentiful.
6. Sunrise Ridge Trail Boulders- Hike out along the easy trail on Sunrise Ridge on the East side of the park. There are multiple large boulders with spectacular views of St. Mary's lake for picnicking.
7. Two Medicine- Paradise Point– just over a mile walk with about 100′ elevation gain is a sweet trail that is accessible to almost anyone. Park at the Two Medicine Camp stop and follow the signs . Picnic along the lake with views of Rising Wolf Mountain. Pro tip: it can be windy- pack a jacket and bring a blanket or small cushion for seating.
8. Highline Trail- multiple overlooks. Probably one of my favorite spots in Glacier Park, is to hike from Logan Pass to the rocky out cropping along the High Line trail. There is no place better to breathe in the soaring alpine vistas along the trail. Pro tip: bring TONS of sunscreen, a wide brim hat and three times as much water and you think you will need. Pit toilets at Granite Park Chalet.
9. Siyeh Pass– picnic on the rocks along the creek. At the Siyeh Pass trailhead along the Going to the Sun Road- there is a beautiful creek that runs most of the summer. Along the creek are several flat rocks that make for a beautiful spot for a picnic. You only need to hike up the trail a few hundred yards to enjoy this quiet picnic spot. Pro tip- take bug spray. See the trail map here. The trail makes for a beautiful way to spend the afternoon with incredible views of the valley.
5 Cafes & Lounges inside Glacier National Park:
1. West Glacier Coffee Shop– Our favorite spot at the end of a long day of hiking. Save room for ice cream.
2. Lucke's lounge – Lake Macdonald Lodge– great place for a cold libation after a long hike . Bar service begins at 11:30.
3. Two Dog Flats Grill– Overlooking the shores of Lake St. Mary is the Rising Sun Motor Inn. Solid hot food when you just want someone to bring you lunch or dinner. Pro tip: If you have Verizon, there is a bit of a cell signal in the parking lot. Breakfast service begins at 6:30am. Dinner runs until 9:30pm. Two Dog Flats dinner menu 2023
4. Interlachen Bar/ Swiss Lounge at Many Glacier Lodge- The most spectacular spot for a cocktail or cold beer is this lovely bar caught in a time capsule. Swiss Lounge Menu 2023
5. Eddie's Cafe- Apgar Village– Eddie's just underwent a big remodel and there is more outside dining this summer. Pro tip– On Eddie's website are highly coveted daily Vehicle Reservation entry passes for the Park- you have to spend $30 at the cafe to redeem the voucher. 2023 Menu Vehicle Entry Voucher- click here .
Great recipes to take on a picnic:
3 Best East Side Dining spots just outside The Park
1. Johnson's Diner of St. Mary's – Pro Tip: Get the soup and the bread. Don't ask what's in the soup. It's fantastic. 21 Red Eagle Road, Saint Mary, MT. Typical wait is 15-30 minutes.
2. Two Sisters in Babb– Best spot for dessert or fried chicken on the East side. They are always looking for great staff. 3600 Hwy 80, Babb , MT- Closed Saturday
3. Babb Cattle Baron Supper Club– If you want a Montana steak- this is the place to go, Hwy 89 in Babb, MT. Wait times can be long.