Vanilla Baked Pears with Creamy Mascarpone
Happy National Dessert Day. If you are looking for a simple yet stunning Fall or Winter Desert, I have just the thing for you.
Pears are so rustic yet elegant at the same time. They go well with many of the dishes we are preparing this Fall – Pork-loins, roasted chicken, turkey, lamb and yet they are simple to prepare. Sometimes after a hearty Fall or Winter meal, a light dessert is the best things to serve. Also, I find when entertaining, a showstopper dessert just might not be doable with everything else I have to prepare and a store bought pie or cake seems an extravagance. These delicate pears are plentiful in the stores right now and need little to make them special. Creme Fraiche can easily be substituted for mascarpone. One vanilla bean and some sugar sprinkled over pears that have been halved and baked create a perfume that is intoxicating and welcoming to your dinner guests. Serve with a small glass of sherry or tawny port. Give this easy little dessert a try. And as always, let me know your comments below.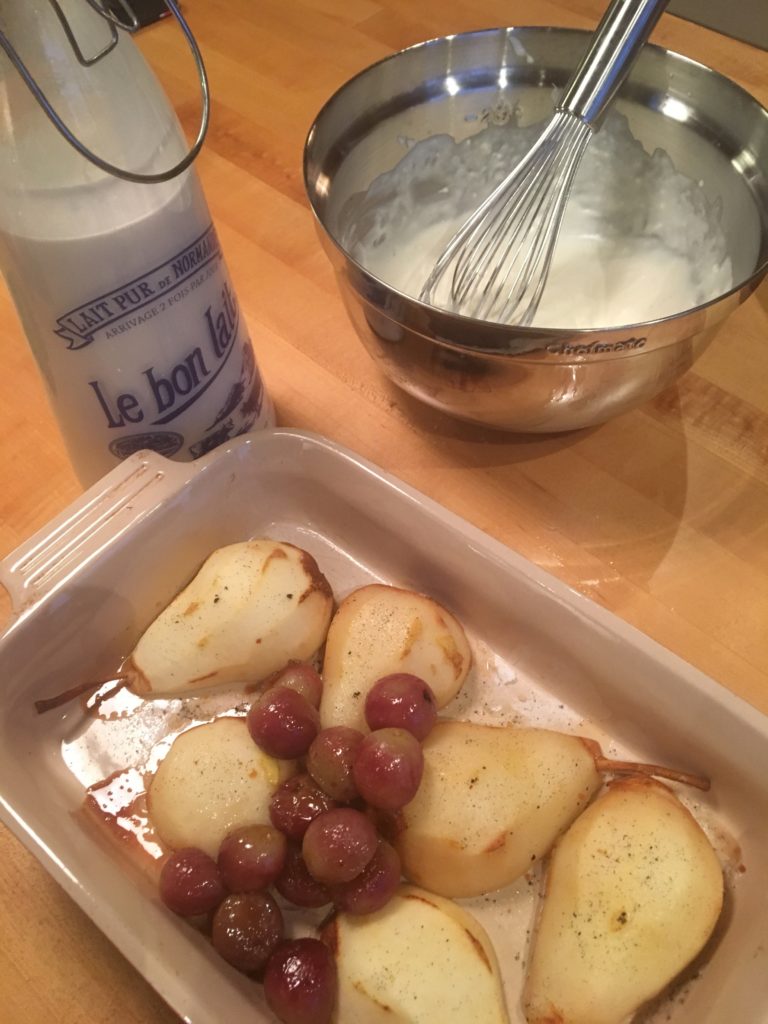 Print
Vanilla Baked Pears with Creamy Mascarpone<br><br>
4 Bosc Pears, peeled, halved and core removed. You can also use Bartlett or Anjou

1/2 cup sugar, divided


Zest of one lemon

Juice of one lemon

One vanilla bean, split lengthwise and seeds scraped out

One small container of Mascarpone cheese, softened


1/3 cup heavy cream

1 cup sweet wine- such as Reisling
Pre Heat Oven to 375
Place prepared pears cut side up in a buttered baking dish so that they are touching- this will help produce a bit of steam. Pour lemon juice over pears. Mix lemon zest with 1/4 cup of sugar and the vanilla bean seeds. Sprinkle over the top of the pears.
Bake for 30 minutes, basting every 10 minutes with the wine.
After 30 minutes, turn the pears over and bake another 15 minutes until the pears are fork tender. Continue basting.
While the pears are baking, mix remaining 1/ 4 cup of sugar, cream and mascarpone until smooth and creamy . Once the pears are finished baking, add any juice from the baking dish to the mascarpone cream mixture .
Serve the pears warm with the mascarpone sauce poured over.
You can add red table grapes halfway through the cooking process for an added touch.
This recipe serves 4.