Southern Slow Cooker BBQ Pork with Slatherin' Sauce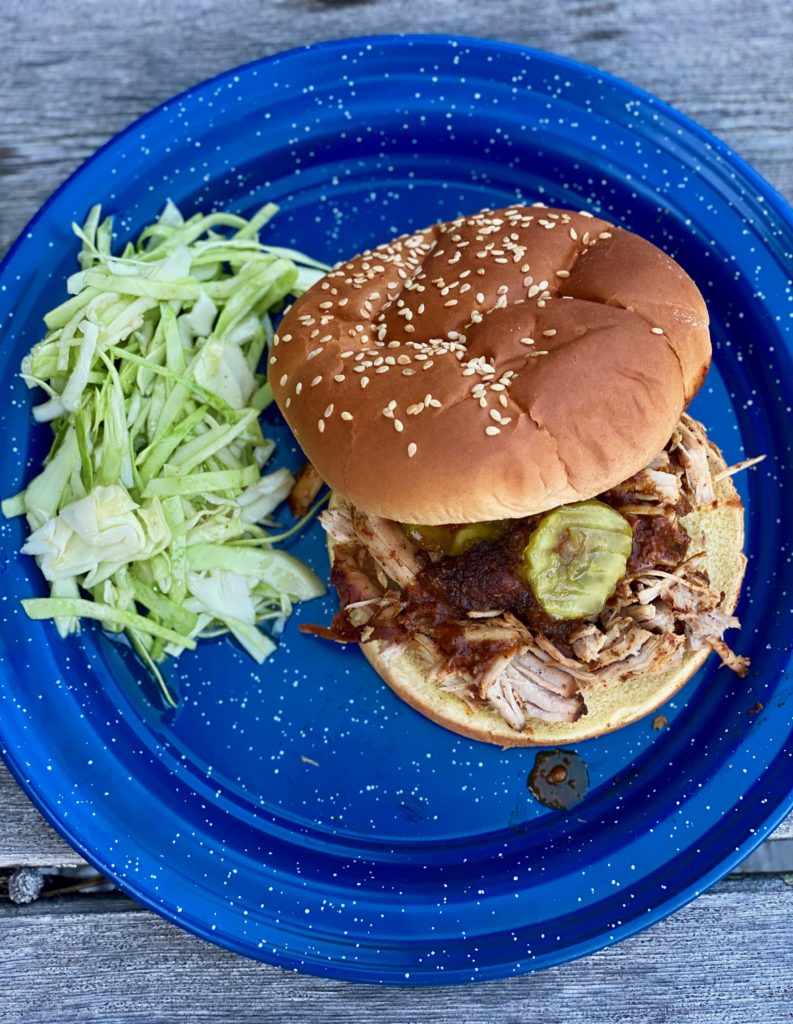 Sigh, Summer is slowly coming to an end. But, with the end of Summer come the traditions we love about the Fall: Labor Day Weekend, Pumpin Spice and College Football!
Even though football is going to be VERY different from years passed, we can still cook up a tailgate worthy BBQ and cheer on our schools.
This slow cooker pork is the stuff tailgate dreams are made of. A spice encrusted pork shoulder browned it all over in oil. Then the pork is nestled in a slow cooker with a blue ribbon worthy sauce. Just let the slow cooker do all the rest. After 6-7 hours, chop up the meat,throw it all in a bun with sweet pickle chips and more slatherin' sauce. Serve with a tangy vinegar based cabbage slaw for a perfect backyard picnic.
We're not going to be able to tailgate this Fall, (here is the SEC game schedule for 2020), but we can cheer on our teams from the kitchen. Now, let's get cookin' and GO Gators!
Enjoy!
Print
Southern Slow Cooker BBQ Pork
for the spice rub:

1 TBSP smoked paprika

2 tsp cumin

1 tsp garlic salt

1 tsp kosher salt

1 tsp ground pepper

1/2 tsp cayenne pepper

for the slatherin' sauce


1/2 cup pure maple syrup

1/2 cup apple cider vinegar

1/2 cup brown mustard

1 adobo chile in chipotle sauce, chopped

1 TBSP adobo sauce

1/2 cup Lillie's Carolina BBQ sauce #40 *

5 cloves garlic, peeled and chopped fine

3 lb pork shoulder

1 TBSP vegetable oil

sandwich buns

sweet pickle chips
Print
Method- Prep time 30 minutes. Cooking time 6-7 hours
In a large gallon size zip bag, combine all the spices in the rub. Add the pork to the bag shaking well to coat the meat. Let rest at room temp for 30 minutes.
In a large bowl, combine all the ingredients for the slatherin' sauce- maple syrup through garlic. Mix well. Pour into the bottom of a slow cooker or a crock pot. Set temperature to LOW.
In a heavy pan over high heat, add 1 TBSP of vegetable oil. Heat oil until just smoking. With tongs, add spice coated pork and brown all sides taking care not to remove the spice rub. Place browned pork into the slow cooker nestled into the sauce and cook for at least 6-7 hours or until meat falls apart with pulled with a fork. Meat should be tender.
Turn pork at least twice while cooking.
Remove pork from slow cooker. Cover with foil and let rest 10 minutes. Chop or pull pork into bite size pieces. Spoon 1/4 cup of the sauce from the slow cooker into the chopped pork.
Pour remaining sauce from cooker into a serving dish.
Serve chopped pork on sandwich buns with pickles and extra sauce for slatherin'.
Serves 5-7

Note- If you cannot find Lillie's sauce at a retailer near you, try a vinegar based BBQ sauce.