Welcome to Vegetarian Week.
My newly married daughter, Elizabeth, challenged me to create a series of vegetarian recipes that would be simple, cost effective and healthy.
So I bring you- Vegetarian Week.
My first recipe is a zucchini, mushroom, spianch and pepper quiche. I just picked up seasonal veggies from the farmer's markets and threw this together. Any combination of veggies will work. If you use summer squash, zucchini or tomatoes, be certain to salt them and let the water drain out. To make it extra simple, I used a pre-made crust, but after having made pie crusts all summer, if you have time, please make your own. It tastes SO much better. You can easily double this recipe and have a much heartier quiche. Just bake for about 10-15 minutes longer.
This recipe along with a side salad serves four people.
*See baking notes after recipe:
Print
Summer Vegetable Quiche
Pie Crust to fit a 9″ pie plate. **

1 TBSP olive oil

1 TBSP unsalted butter

2 cups zucchini- cut into quarters- See cooking notes for prep


1/2 cup orange, yellow or red bell pepeer, chopped

3 green onions, washed, chopped- leave 1/2 of the green stalks

1 cup spinach- stemmed and rough chopped

1 cup mushrooms, chopped into quarters- See cooking notes for prep

1 tsp fresh thyme leaves

1 tsp garlic salt

1 tsp white pepper

2 large eggs
1 cup half and half

1 cup of Gruyere or Parmesean Cheese, fined grated

1 TBSP corn starch
Print
Method- Serves 4
Pre heat oven to 375 degrees.
On a floured surface, roll out pie dough into an 11″ circle. Press into a 9″ pie plate. Chill for 30 minutes. Prick the bottom and sides with a fork. Line with foil and dried beans or pie weights and bake for 10 minutes.
Remove the foil and pie weights and bake an addtional 5-7 minutes until the crust is golden brown. Remove from oven and set aside.
Reduce heat in oven to 350 degrees.
Heat oil in a large skillet. Pat zucchini dry and sauté until golden brown. Set aside in a bowl. Add butter to pan. Sauté mushrooms until they have a browned edge. Add in peppers, spinach, green onions and thyme. Cook an additional 5 minutes on medium low heat. Set all vegetables aside and allow to cool slightly.
In a bowl combine, eggs, half & half, garlic salt, white pepper and corn starch. Gently stir in vegetables and mix well. Add in cheese.
Pour the quiche filing into the baked pie shell. Bake until set approximately 25-30 minutes.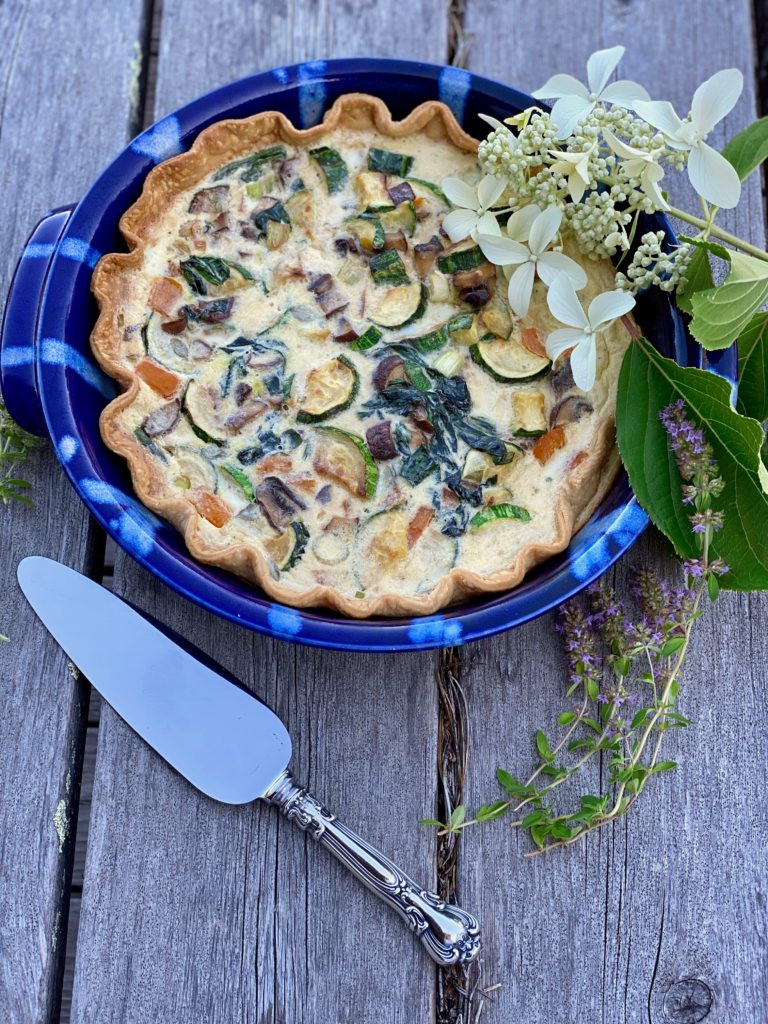 Cooking Notes:
To prepare vegetables:
Chop zucchini and place in a strainer lined with paper towels, add 1/2 teaspoon salt, toss well. Let zucchini drain for at least 10 minutes or up to an hour. Blot dry with clean paper towles.
For spinach- remove stems, chop and sauté.
Mushrooms- Remove stem, wipe clean with a barely damp paper towel. Cut into quarters. Sauté until browned on all sides. Never wash muhrooms with water. They are little sponges and will soak up all the water.
I prefer to sauté zuchinni, squash or tomatoes on their own . Remove from pan to let cool and then add in mushrooms, peppers, and spinach. See video.
If you do not have beans or pie weights- it is fine. I baked this quiche in the photos without them. The crust shrank back a little, but tasted fine and was not over baked.
** Use my pie crust recipe found HERE. Omit the sugar.