5 Best Menus for a Stress-Free Mother's Day Brunch
Who is more special and more deserving of a day of pampering than Mom?
Let's spoil her rotten with a beautiful salad and yummy dessert or two and an elegant cocktails.
Mom will know how much we love her, but not stress you out too much in the meantime.
What kind of mom do you have? Plan the perfect lunch based off of your mom's personal style.
Start off the day by making one of these gorgeous salads:
1.
The Chic Mother: Salad Niçoise
This mom is always stylish, well groomed and well traveled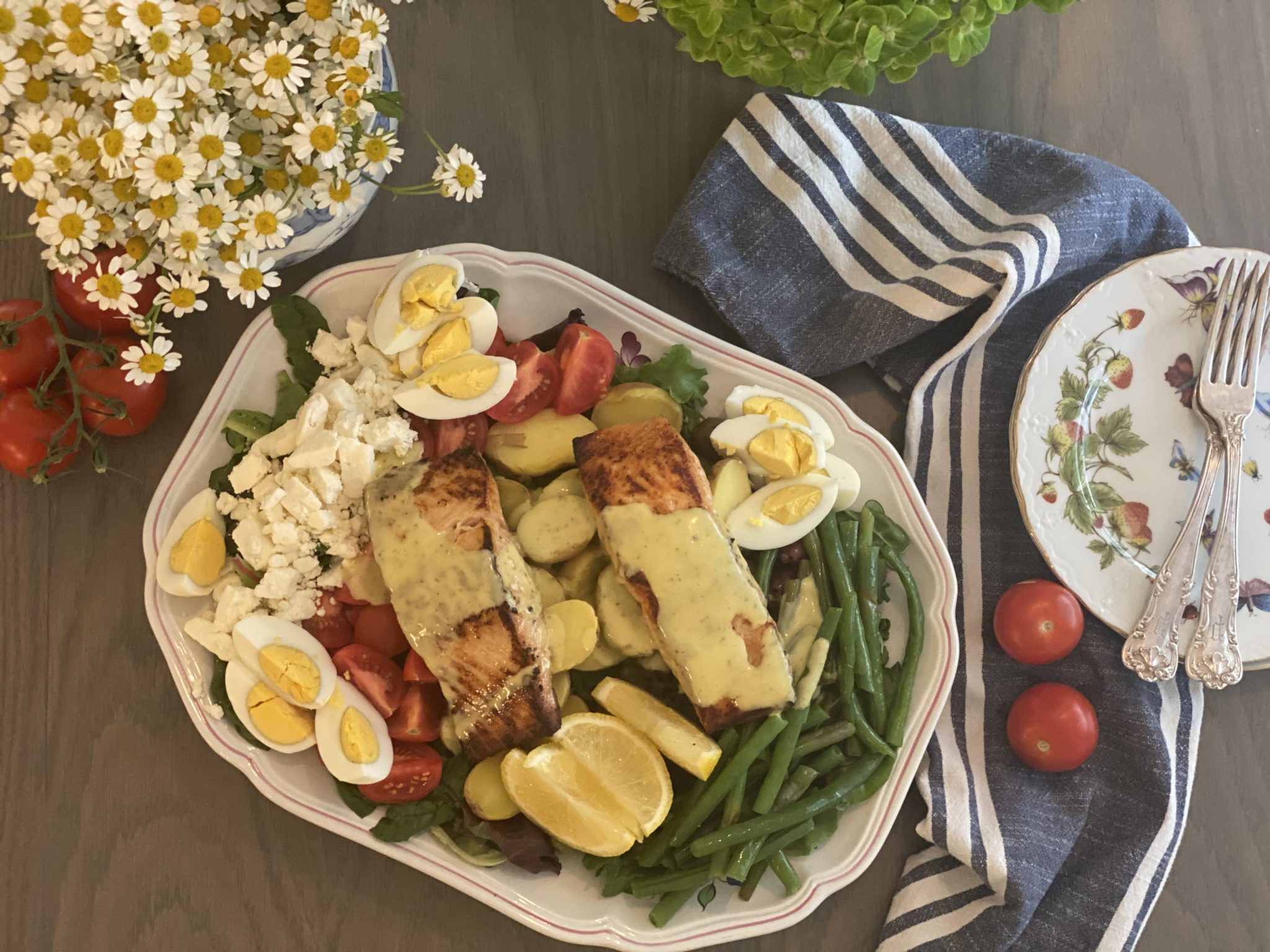 Meggen's favorite Salad Niçoise is served with hard boiled eggs, crisp green beans, creamy potatoes, olives, tangy feta and seared salmon. Best of all, you can make it a day ahead. This is a great dish for the mom who is always groomed to the "T", always wears the most stylish clothes and loves a great art gallery. Maybe take mother to an avant guard art opening or watch "French Exit" with Michelle Pfeiffer. Round out the menu for your chic mom with a crisp Provencal Rosé and pretend your dining on the Cote D'Azur or sip my French 75 ( mom loves Champagne, of course) and a simple crusty baguette, even though mother never eats carbs. For dessert- Pavlova or a simple slice of fresh fruit and a wedge of her favorite brie.
2.
The Traditional Mom: Meggen's Chicken Salad
This mom is a classic. She does things the way her mother and grandmother taught her.
For this Junior League sustainer traditional mom let's make her Southern Chicken Salad with toasted pecans, sweet grapes, crunchy celery and a fantastic mayo- mustard dressing. She loves the classics so stick with them. Serve with crisp iced tea, a beautiful bowl of fresh berries and my lemon tea cake to round out the menu for a mom who loves tradition. For dessert, let mom indulge in my Grapefruit and Cointreau Golden Cake. It's light after a big lunch. It's a special occasion cake for certain that will make mom so proud you know how to properly make a chiffon cake.
3.
The Sporty Mom: Lemon Cous Cous Salad
This mom is always in her Lululemon's so serve her a lunch that will fuel those workouts.
Does your mom sign the entire family up for a turkey trot on thanksgiving morning? Is she the mom that never misses her pilates class or morning at the gym? Then have I got the menu for Sporty Mom- This Lemon Cous Cous salad with chick peas, avocado and peas is exactly what your fit and healthy mom is craving. Plan a menu with a healthy Sparkling Cocktail of antioxidant rich blood orange juice and don't worry- I've got you covered for dessert. Try out my Better than Brady's Cacoa and Avocado Ice cream. It's so rich and creamy, you'll never know its good for you.
4.
The Adventure Mom- Forbidden Rice Bowl
This mom is always planning her next travel adventure- whether she's biking through Iceland or hiking in Peru, she is a mom on the go.
This mom has a love of travel and all things exotic. She studied abroad in Budapest, when all her friend went to Italy. She wears silk shawls bought at street markets and drinks moroccan tea. Make her Forbidden rice bowl filled with gorgeous vegetables. Serve it with a citrus salad with carambola and honey , warm Cardamom and spice muffins , a beautiful Cucumber Fizz cocktail and for dessert how about an apricot galette for dessert? Serve it with a mascarpone whipped cream- mom would find that so interesting- just like her incredible travels.
5.
The Green Mom: Quinoa & Roasted Vegetables
This mom wants it green and sustainable. Let's make her happy with this great menu that shows your as thoughtful as she is with her lifestyle.
This mom wears vintage, not just because it looks great, but because it is good for the planet. She shops local for her groceries and loves a plant based diet and planning her day around a zero carbon footprint. After all, mom cares about leaving a healthy planet for her grandkids. Hint, hint. She'll love this menu of locally sourced vegetables in my Kale and Quinoa salad, a cocktail like my guava and grapefruit cocktail made form spirits from a local distiller, a blueberry tea loaf with berries you picked with her on your Mother's Day outing or maybe pick up a pie from a local bakery that supports the local CSA.
Don't forget to order those flowers for mom. Always support local flower shops who make spectacular designs like these little beauties which my girls have given me over the years.